I'm speaking. Mr Vice President, I'm speaking.
Trendete auf Twitter vor ein paar Tagen als sich die Vize PräsidentInnen zur Debatte trafen.
Obwohl das im politischen Kontext eher keine Seltenheit ist, also das übern Mundfahren, aber in diesem Beispiel, jede Frau, die schon einmal in einem Business Meeting saß
Vor ein paar Tagen musste sich Kamala Harris in der Vice president Debate mit Mike Pence die "Arena" teilen.
I want to thank @KamalaHarris today, & well, Amy Coney Barrett should too; because when a man asked her a question today–& then proceeded to interrupt her 3 times…the looks on both their faces as it happened spoke volumes about how "I'm Speaking" has been noted, & seen. Bravo. pic.twitter.com/1tKT51gnzq

— Story Time with Miss Anna🐝 🖖📸🏞🎞📚🧠🪑 (@StoryTimewithM1) October 14, 2020
Wie es zu erwarten war, und was ja auch nicht anders bei der Presidential Debate, hat niemand ever den anderen ordentlich ausreden lassen.
Das besondere ist aber in dieser Konstellation: Es zeigt eine gesellschaftliche Normalität, die alle Frauen aus Meetings ganz genau kennen.
Frauen haben in beruflichen Meetings oder auch Talkshows weniger Sprechzeit, da sie öfter unterbrochen werden und über den Mund gefahren werden.
Warum ist das so? Vermutlich, weil bereits schon im Kindesalter Mädchen eine andere Art der Kommunikation anerzogen wird als Jungen.
Mädchen sollen sich eher zurückhalten, lieb und artig sein. Das sind Gott sei Dank nicht alle, das ist klar. Aber der der gesellschaftliche Konsens vertritt diesen Narrativ.
Bei Jungen dagegen ist es gewollt, wenn sie laut, wild und eher ein dominantes Verhalten zeigen.
Bei erwachsenen Frauen werden Verhaltenseigenschaften wie "direkt, laut, bestimmt" eher als negativ unnahbar und zickig angeheftet. Bei Männern das gleiche Verhalten als selbstbewusst und sicher.
Damit hatte damals Senatorin Alexandria Ocasio-Cortez schon zu kämpfen, als sie einen politischen Gegner sexuele Belaestigugng vorwarf.
Wir berichteten hier darüber: Alexandria Ocasio-Cortez

Sie blieb natürlich sachlich und unemotional, da sie eben nicht  diese für Frauen (!!) negativ behafteten Attribute ausstrahlen wollte. Im schlimmsten Fall hätte man sie dann nicht Ernst genommen.
Dass das allein genommen, noch mal ein ganz anderes Thema der Ungleichheit ist, steht auf einem anderen Blatt.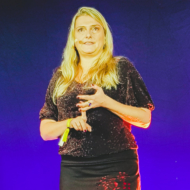 Cindy Pfitzmann
Cindy Pfitzmann ist Gründerin von The Bold Woman.Zudem ist sie Speaker, Autorin und Mentorin für die Themen Female Empowerment, Frauen auf die Bühnen und "Raus aus der Komfortzone".Sie lebte 6 Jahre in Australien und erfand sich komplett neu was ihr Leben und ihre Karriere betrifft. Immer ganz oben auf der Liste stand der grosse Wert von "Freiheit". Freiheit zu leben und zu arbeiten wo, wann, mit wem und woran man will. Alles ist möglich, wenn du dich selbst gut genug kennst und weisst, welche Hebel am besten funktionieren und den Mut hast, diese Hebel zu bewegen und diese Wege zu gehen.